Beyond MySpace and Facebook: Meet Octopus Marketing
I must be insane. My plate is already full with enough projects, errands and to-do list items to make anyone's head spin. But I've still found time lately to wade into the deeper waters of social networking online.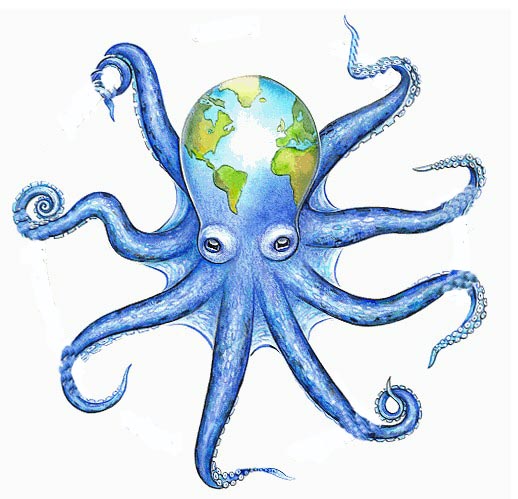 Sure, I already have a presence on
Facebook
,
MySpace
,
YouTube
,
Flickr
,
Twitter
,
Ning
and
Digg
. But after months of putting it off, I finally set up accounts at
StumbleUpon
,
Del.icio.us
and
Meebo
. You should consider doing the same. Why? I'll explain in a second ...
On top of that, I just set up a
Music Marketing Video Showcase
page at SquidVids.com -- a sister site to
Squidoo
, where anyone can create a "lens" on the topic of their choice.
Why all this posting to so many different sites? I do it for the same reason you should: to reach people online in as many ways as possible.
My friend Scott Ginsberg encourages people to
think of themselves as an octopus
. Why an octopus? Because an octopus has tentacles -- and lots of them.
To make an impact on the Web as an author or publisher, you must stretch your promotional arms in many directions. You have to show up in the places where lots of people are hanging out online. You must be seen and discovered by people who are looking for the kind of stuff you create.
So, if you write books about personal fitness, set up a Fitness Video Showcase at
SquidVids.com
and link to the best exercise-related videos on YouTube. Set up accounts at StumbleUpon, Digg and Del.icio.us and highlight your favorite personal fitness sites (including your own).
Publish your own fitness blog and plug your posts on Facebook, MySpace and Twitter. In other words, spread yourself around so people who are interested in fitness tips have many places to find you.
Better yet, readers will eventually find your name popping up on several web sites and think, "I see this author all over the place. She must be somebody worth listening to."
Now wouldn't that be nice?
Hop into the deeper social networking ocean. The water's fine. Just keep an eye out for the octopuses.
-Bob
P.S. Note that the "squid" of Squidoo and SquidVids is another aquatic animal reference. Coincidence? I think not!
Create a Major Book Buzz Online

. Discover how to use the Internet to attract book buyers like a magnet. Learn more ...
Just getting started?

Want to jump-start your career as an independent author? Check out Bob's
Self-Publishing Success Secrets 101
.
Did you enjoy this blog post?
Subscribe now
and get all of my newest ideas delivered by email or RSS feed.
Learn how here
.