Bob Baker's The Buzz Factor
Music marketing tips and self-promotion ideas for independent songwriters, musicians and bands.
Guerrilla Music Marketing Online
129 Free and Low-Cost Strategies
to Promote and Sell Your Music
on the Internet

Online music marketing demystified — for musicians, managers and music promoters at all skill levels
Order today and get a free Marketing Your Music Online DVD or live workshop audio download ... or BOTH!
Scroll down the page to see your ordering options.
---
What Working Musicians Are Saying About This New Book:
"Bob's plan for online music marketing is comprehensive, simple, and clear. With a no-excuses attitude and a hot-off-the-press list of current publications, blogs, and digital distributors, this book is a must-read for anyone serious about making a living as a modern musician in the Internet Age."
-Jack Conte, of the popular YouTube duo Pomplamoose, www.Pomplamoose.com
"A few years ago my wife bought Bob's Guerrilla Music Marketing Handbook for me. At the time I had no idea or vision of what to do. Fast forward three years and I've now built my own website and release all my music myself independently. I can safely say that without Bob's advice, I'd still be in the Dark Ages.
"And with his new book he's done it again. Even though I'm more web savvy now, this book has taught me how to improve my web business and how to connect better with my fans. Thank you, Bob (again)."
-Mike Monday, www.mikemonday.com
"This is Bob Baker at his best. Detailed, hands-on advice. Hundreds of links and resources. Step-by-step planning. What else can you ask for?"
-Massimo de Majo, jazz musician/composer, lecturer at the University of Malta, www.visualcv.com/massimodemajo
"Pick up this book, turn to any page, and you will start getting ideas you can use right away. Bob Baker gives you what you should be doing right now to win fans, get publicity, and generate sales for your music."
-Jason Feehan and Randy Chertkow, indie musicians and authors of The Indie Band Survival Guide, www.IndieGuide.com
"Bob's newest book definitely spells out the roads less traveled as far as getting your songs to the right people. His strategies are well conceived and easy to implement. Do yourself a big favor and get this book!"
-Avrim Topel, songwriter
---
What the Pros Are Saying About Guerrilla Music Marketing Online:
"When it comes to low-cost, creative music promotion, Bob Baker is your #1 source for hypnotic marketing ideas. Read this book! Your friends will marvel at how you got so popular so fast."
-Dr. Joe Vitale, author of The Attractor Factor and Hypnotic Writing, www.MrFire.com
"Amazing advice! If you do even half of the suggestions in this great book, you'll be ahead of most musicians, and on the right path to music success."
-Derek Sivers, founder of CD Baby, www.Sivers.org
"Bob Baker does it again! This is a wonderful, comprehensive guide to all you should (and shouldn't) be doing to get your music exposed to the masses online."
-Ariel Hyatt, author of Music Success in Nine Weeks, www.ArielPublicity.com
---
What You'll Find in This New, 180-Page Guide ...
Section One
Laying the Foundation for Online Music Promotion
In this first section, we examine 12 key principles that are crucial to laying the groundwork for everything you'll do to promote your music online. Be sure to keep these in mind as you craft your Internet marketing plans.
Section Two
Creating a Highly Effective Artist Web Site
There are so many places and ways to establish an online presence for your music. At the center of all this activity is your own web site. Use the tips in this section to create a site that attracts fans and generates revenue.
Section Three
Promoting Your Music Across the Internet
Once you have a firm grasp of marketing principles and a solid music web site hub, it's time to reach out and start connecting with your ideal fans. Use the tactics in this section to create awareness and lure people into your musical world.
Section Four
Making the Most of Social Media and the Interactive Web
Now we dig deeper and get you even more actively involved in communicating with your fans. Use the many sites and tools covered in this extensive section (from Facebook, YouTube and Twitter to sites you've probably never heard of) to further spread your music to the people who need to hear it the most.
Section Five
Powerful Music-Specific Sites & Online Services You Need to Know About
In this fifth section we examine dozens of music-specific web sites and services that exist to help independent artists promote and manage their own careers, as well as sell music and merchandise. More and more sites like these pop up all the time, but these are the ones most worth paying attention to.
Final Thoughts
Your Internet Music Promotion Challenge
In this final section, Bob challenges you to move all of these great ideas from the realm of thought to the very real world of substance. He gives you some simple suggestions on things you can do in the next week, then the next 30 to 90 days, and over the next six months. Bob then encourages you to share your progress with him and his many readers, and he gives you specific ways to do that.
---
More Praise for Guerrilla Music Marketing Online:
"In his latest book, Bob handily demystifies the maze of Internet music promotion. Recording artists are given solid, hands-on advice, plans of action, and savvy insider info that can turn online contacts into loyal fans. Highly recommended!"
-Dan Kimpel, author/educator and Song Biz Editor, Music Connection Magazine, www.DanKimpel.com
"A step-by-step blueprint on how to succeed in the new digital music era. A great mix of easy-to-follow marketing techniques and 'big picture' strategies to help you draw attention to your music and make money!"
-David Hooper, host of "Music Business Radio," www.MusicMarketing.com
"Bob's practical wisdom comes from years of experience, focusing on music winners and how they've successfully used the tools he offers you here. Get your advice from someone who stays current and is as avid a researcher as he is a practitioner."
-John Braheny, author of The Craft and Business of Songwriting, www.JohnBraheny.com
---
The book also comes with ...
A One-Year, Money-Back Guarantee!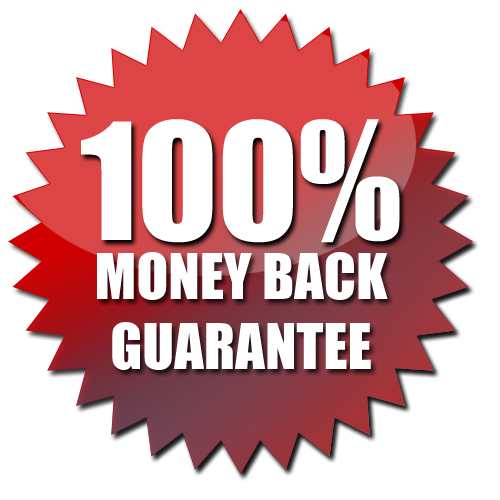 Yup. I want you to be happy. So take up to 365 days to apply these Internet marketing tactics and decide if they're helping you get more exposure, attract more fans, and make more money with your music online. If you're not happy, for any reason, just let me know and I'll give you a refund.
I won't make you jump through hoops. No 20 questions. I'll just give you your money back right away.
-Bob
---
To order, you have three options to choose from:
The ebook version (with a bonus audio workshop)
The paperback version (with a bonus DVD)
Or BOTH versions (with the bonus DVD and audio workshop)
Here are the details ...
The Ebook Version
Available for immediate download — only $14.95 USD
Perks of buying it from Bob's website now:

You'll get the ebook in three convenient formats: PDF, ePub and Kindle. Read it on your PC, iPad, iPhone, Kindle, Nook, Sony Reader and more.
Get access to the ebook right away, as soon as your order is processed online
You'll also get a free bonus audio download called "Marketing Your Music Online." Recorded at the TAXI Road Rally, this live panel features Bob, teen YouTube music sensation Tiffany Alvord, publicist Ariel Hyatt, Disc Makers & CD Baby CEO Tony van Veen, and TAXI founder Michael Laskow.
Guerrilla Music Marketing Online
Ebook Version — $14.95 USD
---
Important note about ordering the paperback:
If you need your physical book quickly, I suggest getting it from Amazon or Barnes & Noble. Just know that you won't get the bonus DVD and your book won't be autographed.
If you want the DVD and a personalized autographed copy — and you don't mind waiting a while — then order it from me using the link below. I'll get it to you as soon as I can, but I can't guarantee a delivery time.
The Paperback Book
$19.95 USD plus shipping
Perks of buying it from Bob's website now:

Bob will personally autograph the book to the name in the "Ship To" field on the order form.
You'll also get a free bonus DVD called "Building a Buzz and Selling Your Music Online." Recorded at the NAMM show, this live panel features Bob, musician Brian Mazzaferri (of I Fight Dragons), publicist Ariel Hyatt, Disc Makers & CD Baby CEO Tony van Veen, and TAXI founder Michael Laskow.
Guerrilla Music Marketing Online
Paperback Version — $19.95 USD plus shipping
(Your total amount will be $25.95 to the U.S.,
$32.95 to Canada, $36.95 International)
---
BEST BUY!
BOTH the Paperback & Ebook Versions
Start reading the ebook version now (and listening to the nearly one-hour "Marketing Your Music Online" live workshop audio), AND get an autographed copy of the paperback book (plus the bonus DVD) in the mail!
Guerrilla Music Marketing Online
Paperback & Ebook Versions — $24.95 USD plus shipping
(Your total amount will be $30.95 to the U.S.,
$37.95 to Canada, $41.95 International)
---
Free Ezine
Get Bob's FREE music marketing tips delievered by email 3 or 4 times a month! Find out more or subscribe now:
---